JAUME GENOVART LLOPIS (Barcelona, 1941 - 1994)
As son of a bookseller and grandson of a linotypist, Genovart was brought up in the realm of literature, graphics, calligraphy and landscape, which he constantly featured in his work.
He studied Art and Economics, but he gave up his degree in order to devote to painting unconditionally.
He actually was a self-educated artist who began to paint about 1963. His style kept absorbing influences mainly from expressionism and surrealism. Then evolved towards a lyric abstraction plenty of calligraphy sketches and dynamic signs full of rhythm: arabesques, lettering, lineal images, all in gorgeous plain tinging which resulted in a musical effect - depending on his spontaneity rather than the colour itself.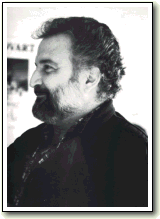 Starting from 1972, the year of his very first exhibition in Barcelona, he regularly exhibited in the most prestigious galleries of Spain and Germany. As space and landscape were his passions, he went through a stage of cosmic painting with a heavy load of agressiveness and violence - "Perhaps, too much violence", Fernando Zóbel used to tell him. He then started to collaborate, on a regular basis, with different media and also designed title pages for a variety of books and magazines.

Exhibitionwise, his most relevant stage began in the late seventies. He took part in numerous international exhibitions throughout Europe, America and Asia. From 1980, Genovart got closer to a more classical landscape; his "hand-writing" recovered the highest value and became a decisive element in his painting.

Jaume Genovart's most genuine feature is his brilliant originality in using such a hard technique as it is painting on printed paper i.e. old documents, staves.

He stood for Spain in Sao Paulo's Bienal, in Rijeka, in New Delhi's Trienal and Alexandria.

His overall painting mastership and his fascinating "unreal" landscape are easy to recognize: gestures, strokes, colours, signs, letters, numbers... They will always speak of Jaume Genovart's work of art.